Mentoring Program

The Energy Technologies Area (ETA) Mentoring Program is for employees at any career stage who are either seeking career development, leadership advice, or are willing to share knowledge with others.
The goal of the program is to facilitate a support structure for scientific and professional staff to build upon their successes, growth, and engagement at the Lab. ETA values the coordination of mentors and mentees as a way to explore:
Professional Development
Networking
Communication Skills
Time Management
How to Sign Up
Applications for the 2024 ETA Mentoring Program are being accepted. Please use the links below to apply.  Applications are due by November 6, 2023.
What is mentorship?
Mentorship is a relationship in which a more experienced, knowledgeable person helps guide a less experienced or less knowledgeable person and in which one person professionally assists the development of another, outside the normal manager/subordinate relationship.

Specific areas for mentorship may include: General career development, scientific career development, communication, increasing organizational visibility, institutional knowledge, interaction with management, leadership development, networking, project management, supervisory/managerial skills, technical skills, work/life balance, or other topics.

It works best when both the mentee and mentor gain benefit.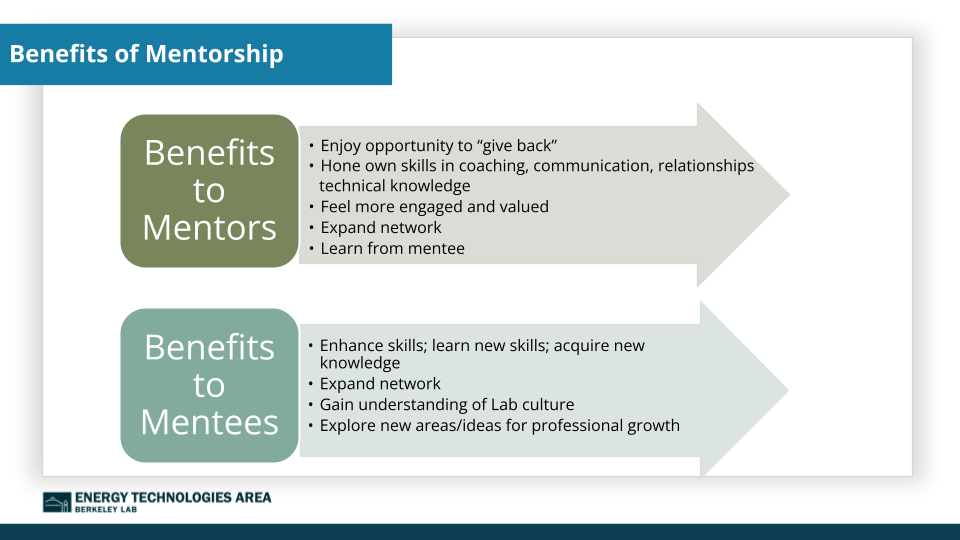 Program Expectations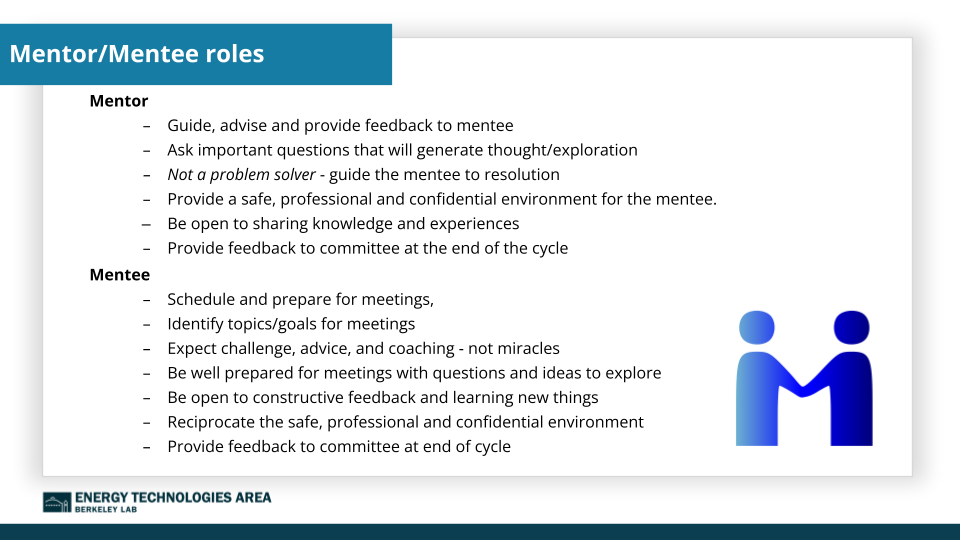 Matching Process
The Energy Technologies Area Mentoring Program will  match mentors and mentees guided by information included in their application.

Mentees identify the areas that they would most like to focus on and if there are any abilities, skills and knowledge areas.

Where possible will align all the interests of prospective mentees and mentors, however specific matches are not guaranteed. We often have more mentee requests than available mentors. We try our best to provide a mentor to everyone but it's not always possible.

Matches will be kept confidential and will not be disclosed to anyone outside the program committee unless the mentor and mentee mutually agree to disclose their relationship to a third party.
Mentees will not be matched with their supervisor or work lead.
Job class and seniority do not play a role in matching unless these factors are explicitly identified as important in the sign-up form.
Mentors and mentees meet one-on-one for the duration of the program.
General Program Timeline
November 6, 2023 - Mentor/Mentee applications due for the 2024 Mentoring Program
November - Matching by the committee
December - Participants are notified of pairings
January - Mentorship program kick-off and orientation
September - Program wrap up; collect evaluations
Learn More and Get in Touch
If you would like more information about this program, please contact your Division Deputy for Operations.