Dr. Nan Zhou, Staff Scientist and Deputy Group Leader of the China Energy Group at Lawrence Berkeley National Laboratory participated and spoke at the 26th China-US Joint Commission on Commerce and Trade (JCCT) in Guangzhou, co-chaired by China's Vice Premier Wang Yang, U.S. Secretary of Commerce Penny Pritzker and U.S. Trade Representative Michael Froman in November 2015.
Dr. Nan Zhou was invited as one of the two experts from the U.S. to speak at the two-hour session on urbanization and smart cities during the JCCT Strategic Dialogue on November 23rd. Dr. Zhou made a 15-min presentation on "Meeting 2050 Vision with Smart Cities and Green Urbanizations in China" at the urbanization and smart cities development session. Dr. Zhou presented the role critical environmental technologies, such as smart grid technologies, could play to facilitate the development of smart cities and green urbanization in China. Dr. Zhou also discussed how government policies could encourage the development of the most innovative and effective technology solutions. 
Secretary Penny Pritzker from the US and Vice Premier Wang Yang also participated in this discussion. Other presenters include Director Li Tie of the China Center for Urban Development under the NDRC, Dr. Jonathan Woetzel, Director of the McKinsey Global Institute (MGI), Director Ge Cha Zhong of the Environmental Policy Division under the Ministry of Environmental Protection's Chinese Academy for Environmental Planning, and Mr. Feng Yong the Chief Operating Officer of iSoftStone Ltd., a Chinese business and IT consulting group whose services include smart city planning and design.
Following the presentations, there were discussions between principals and experts on the topics of addressing urbanization challenges, growing service economies, and enhancing environmental protection through bilateral and multilateral efforts. Dr. Zhou received complements for her speech from the Secretory Pritzker and Trade Representative Froman.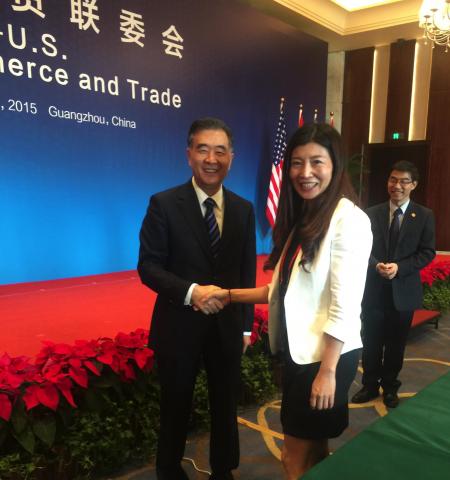 Dr. Nan Zhou with China's Vice Premier Wang Yang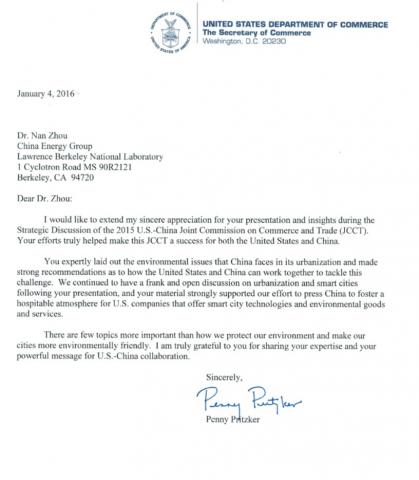 Appreciation letter from Penny Pritzker, US Secretary of Commerce