The China Energy Group hosted its 8th annual Chinese New Year Party on February 17th. More than 100 people from across the Lab's many departments came to celebrate the Year of the Monkey. The event also gave the China Energy Group an opportunity to thank everyone for the work they do that supports our efforts. Our guests came from the Affiliates Office, Budget Office, Communications Office, Director's Office, Environmental Technologies Area Office, Human Resources Office, IRSO, Office of the CFO, Sponsored Projects, Public Affairs, State Government and Community Relations Office, Tech Transfer Office, and the Travel Office. Thank you! We couldn't do it without you!
The China Energy Group has worked collaboratively with China for 28 years and last year's Year of the Ram was another busy and successful year for the Group. We participated in the 1st U.S.-China Climate Leaders Summit in Los Angeles. At this event Berkeley Lab announced it will provide technical support to the Shenzhen Institute for Building Research, which is designing a testing laboratory similar to Berkeley Lab's FLEXLAB®. China Energy Group members organized, moderated, and gave presentations at sessions on Climate-Smart Buildings and Green Infrastructure and Low Carbon City Planning.
We also participated in the 6th U.S.-China Energy Efficiency Forum in Washington DC. At this forum, we signed MOUs with the ESCO Committee of the China Energy Conservation Association (EMCA) and the China National Institute of Standardization (CNIS). China Energy Group members moderated 3 sessions and made 5 presentations. 
We participated in the 26th China-U.S. JCCT Strategic Discussion on Urbanization and Smart Cities Development This discussion was attended by China's Vice Premier Wang Yang; Gao Hucheng, Minister, Ministry of Commerce; Zhang Yong, Deputy Director, National Development and Reform Commission; U.S. Department of Commerce Secretary Penny Pritzker; Ambassador Michael Froman, U.S. Trade Representative. CEG's Deputy Group Leader, Nan Zhou, presented on environmental technologies that are critical to the development of smart cities and green urbanization in China.
Other outstanding 2015 accomplishments include the publication of "Understanding China's Nonfossil Energy Targets" in Science, as well as launching a website, and serving as Secretariat for U.S.-China EcoPartnerships Program. 
Furthermore, the China Energy Group participated in the Inaugural International Workshop for Asia Energy Efficiency Program and Policy Evaluation, and launched the Berkeley-Tsinghua Joint Research Center on Energy and Climate Change.
Another noteworthy 2015 even in which the China Energy Group participated was the Climate Summit For Local Leaders, organized by the Mayor of Paris & U.N. Secretary-General's Special Envoy for Cities and Climate Change (Michael Bloomberg). Released at this summit was the Role of Chinese Cities in Greenhouse Gas Emissions Reduction. This event had the largest number of participants in UNFCCC history-- 30,372 totals: 19,210 government representatives, 2008 IGOs, 6306 NGOs, 2798 media. Interestingly, it was attended by the largest number of heads of state under one roof in world history (150). The joint China-U.S. announcement signals the shared vision in which the world's two largest economies are moving to a low-carbon future. This announcement represents a huge shift on this global crisis.
Our Group researchers published 9 peer-reviewed journal articles, 14 peer-reviewed conference papers, 16 LBNL reports, 2 policy briefs, 1 book chapter, and 1 trade press paper in 2015. In addition, we hosted 260 guests for short visits and 48 visiting researchers who stayed between six and twelve months. We also trained over 80 experts from the Chinese government, private sector, and research institutions on how to use the suite of CEG-developed low carbon eco-city tools. To get this all done we took a total of 126 domestic and international trips.
We wish to express our supreme appreciation for your continuous support to us in the past year and would like to take this opportunity to wish you a happy and wonderful Chinese New Year!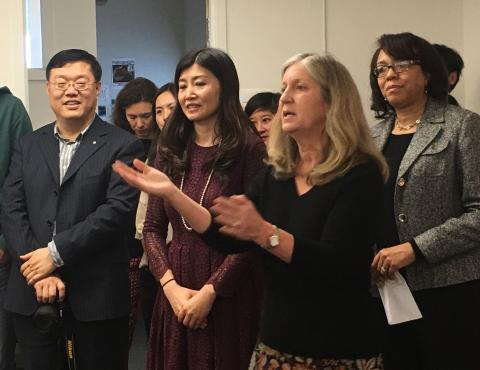 Lynn Price gives a welcoming speech.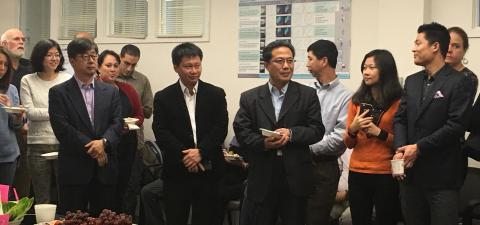 Science and Technology Counselor Junming Wang and Professor Penghui Xu are pictured in the center.
Guests eagerly await the wide variety of Chinese cuisine.

Sharing Food with Friends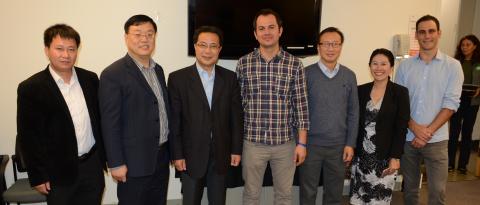 CEG staff members are pictured with special guest, Consulate Director Zhou Yong of the Shandong Academy of Sciences.