Weber Named Electrochemical Society Fellow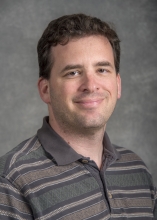 Adam Weber, who leads the Energy Conversion Group within Lawrence Berkeley National Laboratory's Energy Technologies Area, was recently named to the Electrochemical Society's 2018 Class of Fellows. The fellows are chosen for their scientific achievements, leadership and service to the society.
Weber's current research involves understanding and optimizing fuel-cell and electrolyzer performance and lifetime using advanced modeling and diagnostics, understanding flow batteries for grid-scale energy storage, and analysis of solar-fuel generators. Recently, he co-explored novel routes towards improving polymer-electrolyte fuel-cell performance with thin-film electrodes. The research appeared in Joule earlier this year.
He also serves as a Thrust Coordinator in the Joint Center for Artificial Photosynthesis (JCAP), Deputy Director of the HydroGen – Advanced Water Splitting Materials (H2-AWSM) consortium, Deputy Director of Fuel Cell – Performance and Durability (FC-PAD) consortium, and Lab Program Manager for Fuel-Cell Technologies Office. He is the past chair of the Energy Technologies Division of the Electrochemical Society.
Weber will receive the Class of Fellows honor as part of the 234th ECS meeting this October in Cancun, Mexico.