IMPEL+ Success in Two National Showcases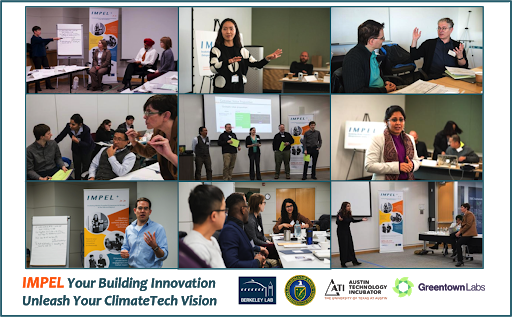 Eight IMPEL+ Innovators recently pitched their technologies at two prestigious national events in the past month, showcasing inventive ideas to industry and government experts and investors, aimed at making U.S. buildings smarter, more energy-efficient, and grid-responsive. 
IMPEL+, Incubating Market-Propelled Entrepreneurial-Mindset at the Labs and Beyond, is a unique program funded by the U.S. Department of Energy's Building Technologies Office (BTO), and implemented by the Lawrence Berkeley National Laboratory (Berkeley Lab). The program provides pitch training and incubation for building researchers and scientists, professionals and entrepreneurs to impel their building innovations to impact.
The 2020 season culminated in two prestigious national showcases. IMPEL+ Innovators were selected to pitch at the showcases based on the strength of their performances in the IMPEL+ program.
At the prominent BTO Peer PReview held on November 17, 2020, five IMPEL+ Innovators pitched their hardtech as part of an informative and inspiring "IMPEL your Building Innovation" event. The Expert Panel in the competition were New Story COO Alexandria Lafci, Treau CTO Kipp Bradford and Austin Technology Incubator CSO Erin Keys.
Elise Strobach, CEO of AeroShield, was awarded the Best Pitch Award for her "Clear, Super-insulating Aerogels for Windows" technology. Wale Odukomaiya, a research engineer at the National Renewable Energy Laboratory, was awarded the Audience Choice Award for his pitch, "3D-TES: New phase change materials for 3-D printing of thermal energy storage for buildings." Congratulations to all the finalists, including Erik Page, CEO of Blue Iris labs for his "Circadian Active Lighting Control" system, Steve Norwood, president of Norwood Architecture for his "Dryside Cladding", and Luis Fernandes, principal scientific engineering associate at Berkeley Lab for his "Deep Daylight- Redirection Blinds" technology.  A recording of the pitch event is available here.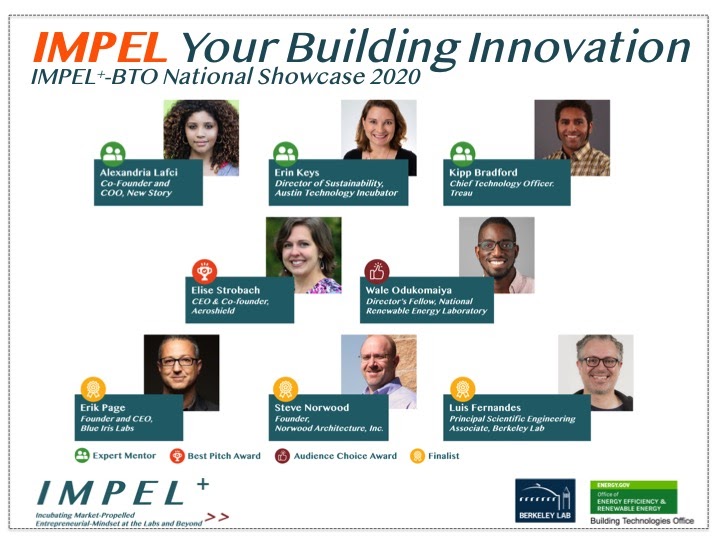 Three IMPEL+ Innovators were selected to pitch their hardtech to a panel of three energy experts or "sharks" at the second showcase, the EERE-NASEO Shark Tank on December 4. This high-profile event was a unique partnership between the Weatherization and Intergovernmental Programs Office (WIP), Building Technologies Office (BTO) and National Association of State Energy Offices (NASEO) to help states partner with entrepreneurs to increase market access for energy-saving technologies.
Congratulations to Daniel Gerber of Verify Energy for his Powerfly solar monitor, Namit Singh of Microgrid Labs for his EVOPT software for fleet electrification, and Aditya Khandekar of Berkeley Lab for his DISCO Distributed Interoperable Sensing for Cost-effective Optimization of buildings system.
The Sharks, Maria Vargas (Director, DOE Better Buildings Initiative), Dr. Sumesh Arora (Director, Energy & Natural Resources Division of Mississippi), and Eddy Trevino (Director, Texas State Energy Conservation Office) asked penetrating questions and provided invaluable insights for each of the Innovators to take their technologies toward pilots and commercialization.
Expansion from 2020 to 2021
In 2020 alone, over 60 IMPEL+ Innovators from across a dozen states learned to pitch their hardware products (building materials, sensors and controls, equipment), software products, (design, modeling, construction, energy management), services, systems & solutions and programs & policies for commercial and residential buildings and buildings-to-grid projects.
There was strong engagement and success as IMPEL Innovators won grants, prizes and private funding, kicked-off project demonstrations and manufacturing partnerships and gained national recognition.
In 2021, we are delighted to have launched new pipeline partnerships with Greentown labs and Austin Technology Incubator for fully-funded access to high-performing IMPEL+ Innovators. This season, we are conducting three virtual IMPEL+  workshops.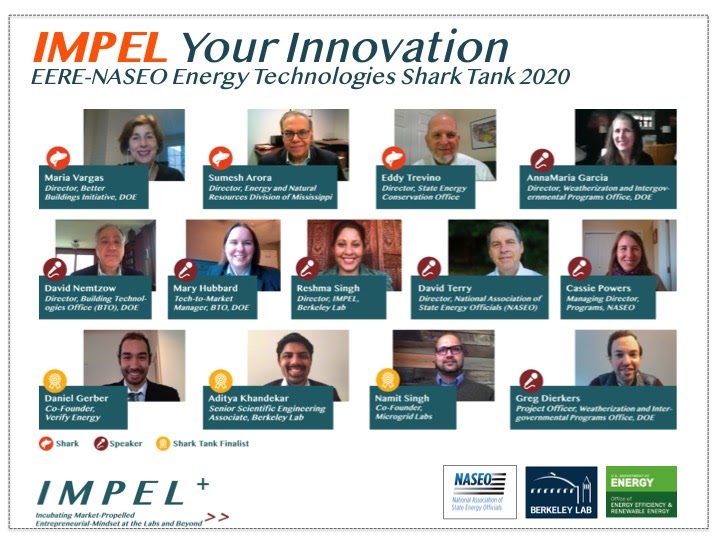 How is participating in IMPEL+ 2021 valuable?
Whether you are an entrepreneur or small business, national lab, public sector or non-profit staff, if you have an idea for the design, construction or management of built environment and infrastructure apply to the IMPEL+ program.
Step 1: Selected applicants invited to one intense, daylong workshop with expert IMPEL Coaches to learn: How do you pitch? How do you roadmap? How do you develop a unique, hard-hitting value proposition?
Step 2: High-performing IMPEL+ Innovators invited to office hours with the IMPEL director, Reshma Singh to discuss progress and identify potential pipeline opportunities.
Step 3: Up to five Innovators selected for each of two pipelines and provided further learning engagements for their buildings and buildings-edge projects.
Public Sector Pipelines: Five IMPEL+ Innovators will be selected to pitch to public sector leaders at the IMPEL national showcases hosted by the U.S. Department of Energy and partner agencies.
Private Sector Pipelines: Five IMPEL+ Innovators will be selected to gain fully-funded access to national pitch events organized by IMPEL's two partner Incubators, the Austin Technology Incubator (ATI) and Greentown Labs. Further, three Innovators will be provided spots in the ATI's summer accelerator, Student Entrepreneur Acceleration and Launch (SEAL).
Apply early
Secure your spot in the IMPEL+ buildings innovation pitch-training workshops early! 
Apply to one of the only two remaining workshops today: impel.lbl.gov/apply
February 5, 2021 (Application deadline: January 6, 2021)

March 12, 2021 (Application deadline: February 10, 2021)